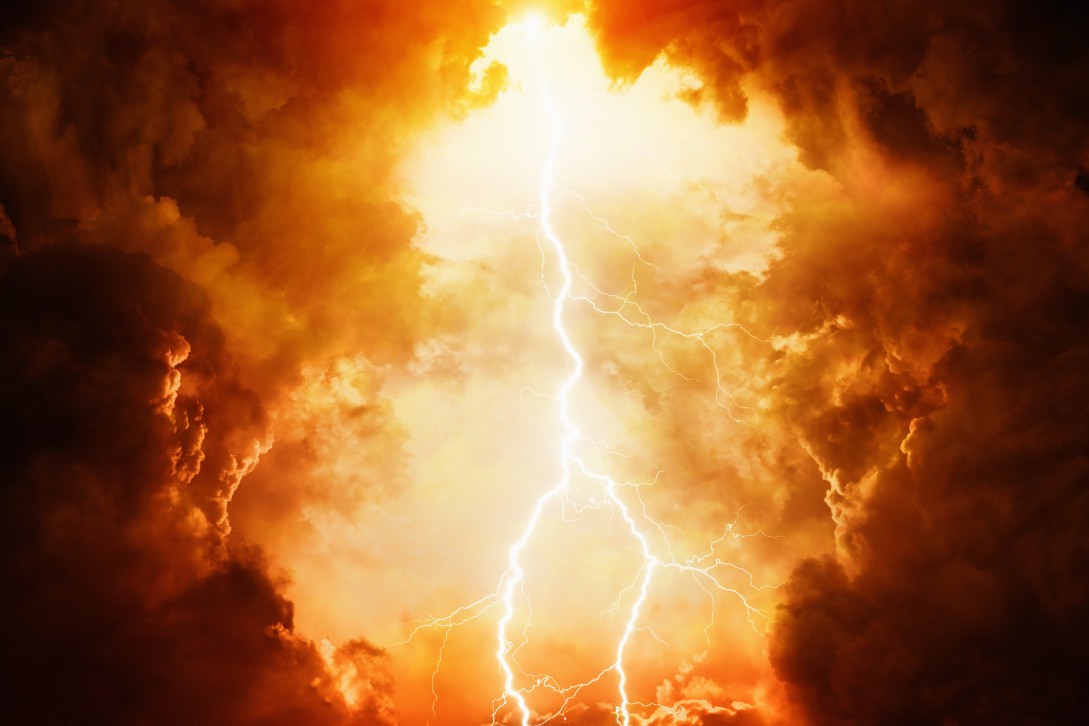 CRACK.
Thunder crashed, tearing the sky asunder. A storm of apocalyptic proportions. But Martha didn't jump as so many of her neighbors did. She'd been expecting it since she was five.
The year she died.
She set her things aside and walked into the pouring rain. The street was nearly empty; most had gone inside when the rain started. There were only a couple folks standing in their front yards, staring up at the sky as if Hell had descended from the clouds, and Martha guessed she could understand. That last crack of thunder had packed quite a whallop.
The sky was a writhing mass of charcoal clouds, pluming like broad stone columns, blotting out the sun. Martha gazed up and tried to spot the form hidden within.
"Come out where I can see you," she shouted. "Let me look at you."
She glanced across the street, self conscious in the wake of her outburst, and of course there was Harold Vernor staring back at her. Well, let him think her a senile fool. She had other things to worry about.
A second peal of thunder, like a mortar bursting in the sky, followed by a bright, strobe-like flash. The sound set off at least a dozen car alarms.
Martha stood there waiting.
MARTHA.
"I was wondering when you'd show yourself."
Martha had been five the year she contracted pneumonia. Everybody expected her to get better, even her doctor, so it came as quite a shock when she took a turn for the worst and teetered on the precipice of death. The storm had come then just as it came now, frightening people with its great pounding cries like artillery fire.
It had approached her on the doorway of death, and in a voice only she could hear, it offered to restore her life. In return, she would let it take her again at a future time of its choosing. The idea terrified her, but if she turned down its offer she was sure to die anyway. So she agreed, and she woke the following morning as if she'd never been sick.
Now, just as before, rain pelted the street in a series of rapid fire plinks, so that Martha was soaked to the skin.
IT'S TIME.
"I figured as much. Can't say I've had a bad life. Had my fair share of scrapes and bruises, but I guess I came out okay in the end."
Two more explosions. Light electrified the sky.
"Anyway," she continued, "I'm ready now."
YOU ARE BRAVE.
"Not brave, just old enough to know I've had enough."
THEN COME, AND LET ME TAKE YOU HOME.
A column of light like liquid fire, bolting from the sky. It struck her in the head. Martha rode that wild surge into the arms of her savior and destroyer, leaving her smoldering body behind.
Subscribe to my mailing list to receive a free digital copy of my short story, The Sign.
Enter your email address and click "Submit" to subscribe and receive The Sign.
©2017 Jeff Coleman. All rights reserved. For reproduction rights, please contact the author (who happens to be a kind and eminently reasonable man.) Unless otherwise stated, images are copyrighted by various artists and licensed by Shutterstock.