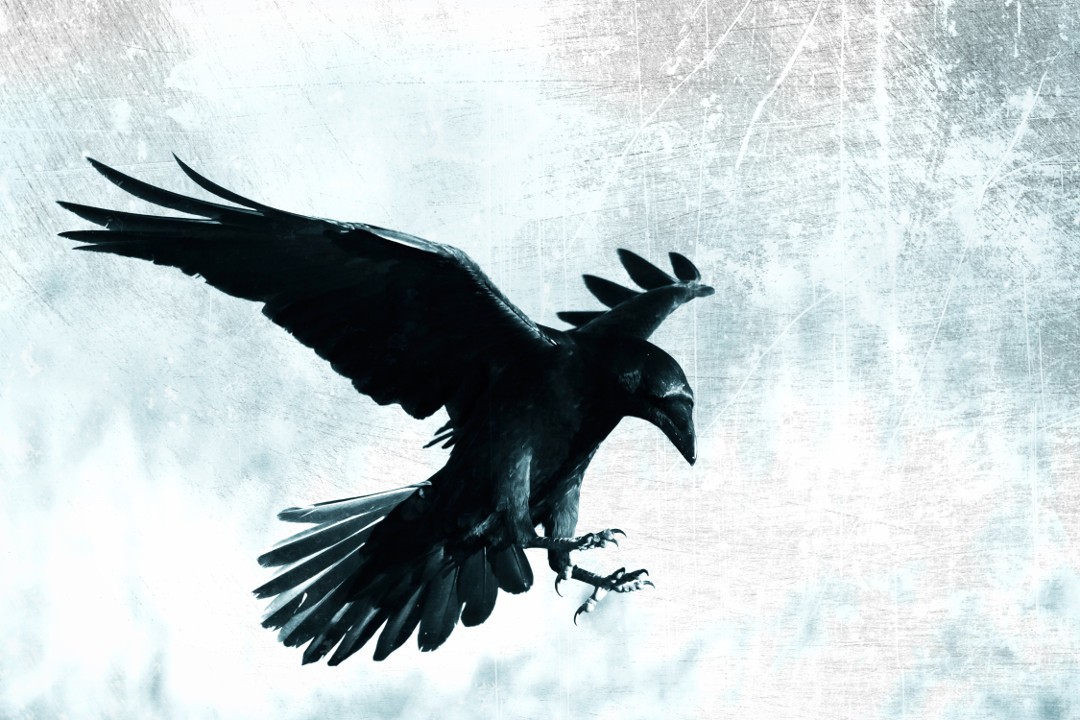 Max dumped the contents of his lunch onto an outdoor wrought iron table—a six-inch turkey on wheat with lettuce, onion, bell pepper and olives—and gazed out into the parking lot, watching strangers as they wandered off toward shops and restaurants.
Among them stood a solitary crow, hopping from one spot to the next as it avoided the humans who surrounded it in that not quite trusting, not quite frightened manner that was so common in urban environments. It trundled up to his table, paused, and sounded a shrill cry before hopping up and perching on the chair across from him.
Max sighed, glanced down at his sandwich, then back up at the bird. A moment later, he tore off a piece of bread and threw it on the ground. The crow dove after it, head twitching from side to side like a junkie going through withdrawals, and on a whim, Max tossed more tiny morsels of bread, taking small bites in-between.
Two other crows followed, and when there were no more crumbs they perched once more, staring at Max with glass beads for eyes.
With a childish smirk, Max fancied himself a king. He imagined the birds were his loyal subjects, that they could hear his thoughts and awaited his orders.
Fly, he ordered the crow in the middle, and to Max's amusement it jerked its head sideways and took off as if heeding his command.
Max turned his attention toward the others.
Perch on the chair next to me. They sidled right a step, then fluttered across the table in unison and landed on the chair next to him.
That took him aback. He tried to think what the odds might be that the crows would do his bidding twice in a row. Anyway, no matter how unlikely, it was only a coincidence. Still, it was fun to pretend.
Look at me. I'm King of the Crows.
Max decided to up the ante. He closed his eyes, and in his mind he visualized dozens of birds descending from the sky like an Old Testament plague, dive bombing the people around him.
Attack, boomed the voice of his imagination. Show no mercy! Max smirked. A ridiculous idea.
Then a woman screamed. Max opened his eyes.
Behind him, an elderly woman had backed into a wall. "Shoo!" she cried, swinging at a crow with her purse. The bird landed on the ground, backed away, then launched into the air for a second assault. When it clamped onto her head with its talons and began to peck at her hair, she screamed and swatted at it again.
Others began shouting too, and in the span of a heartbeat the food court had erupted in a flurry of feathers and upturned tables. Some sought refuge in shops and restaurants, darting through doors and slamming them shut just as flying avian projectiles smashed into them.
Max observed the melee unscathed. A storm had kicked up in his head, battering against the invisible boundary between fantasy and reality. Immobilized, Max could only stare.
Two voices in his head shouted at the same time.
You made them do this. Now stop them, said one.
It's just a coincidence. Birds don't read minds, said the other.
The voices grew incrementally louder, each trying to subdue the other, and before long, they were hurling insults at each other like a couple of elderly senators. Max slapped his hands against his ears and closed his eyes.
Just stop, he cried inside his head. No more.
And then it was over. The few birds that still remained in the air, poised for attack, floated to the ground, puffing themselves up in a mass of ruffled jet-black feathers. Some pecked at crumbs and half-eaten food that had toppled over during the attack (to Max's left, a pair of crows waged war over an abandoned doughnut.)
The people in the food court hesitated before slowly emerging from makeshift sanctuaries. They stared down at the birds on the ground, eyeing them like venomous snakes, and tiptoed around them as if the smallest misstep might rouse their ire once more.
A breeze stirred, followed by disbelieving whispers.
"Have you ever seen anything like—?"
"—just like The Birds! I—"
"—scared the shit out of me!"
"What was—"
"Are you okay?"
Max withdrew into himself.
What did I do?
He'd never wanted to hurt anyone.
If that was the case, why did you imagine hurting people?
Terror and self-revulsion wracked him in waves.
But how can any of this be my fault?
There was no way he could be responsible for what had happened. It'd only been an act of the imagination, unless birds could somehow read a person's thoughts.
Could they?
Of course not, and he dared any crow to tell him otherwise.
One of the birds vaulted up onto the chair opposite him. It stared, piercing him with its dark glassy eyes. Max gazed at the creature for one breathless moment, then rose to his feet and bounded off into the parking lot.
Subscribe to my mailing list to receive a free digital copy of my short story, The Sign.
Enter your email address and click "Submit" to subscribe and receive The Sign.
©2017 Jeff Coleman. All rights reserved. For reproduction rights, please contact the author (who happens to be a kind and eminently reasonable man.) Unless otherwise stated, images are copyrighted by various artists and licensed by Shutterstock.