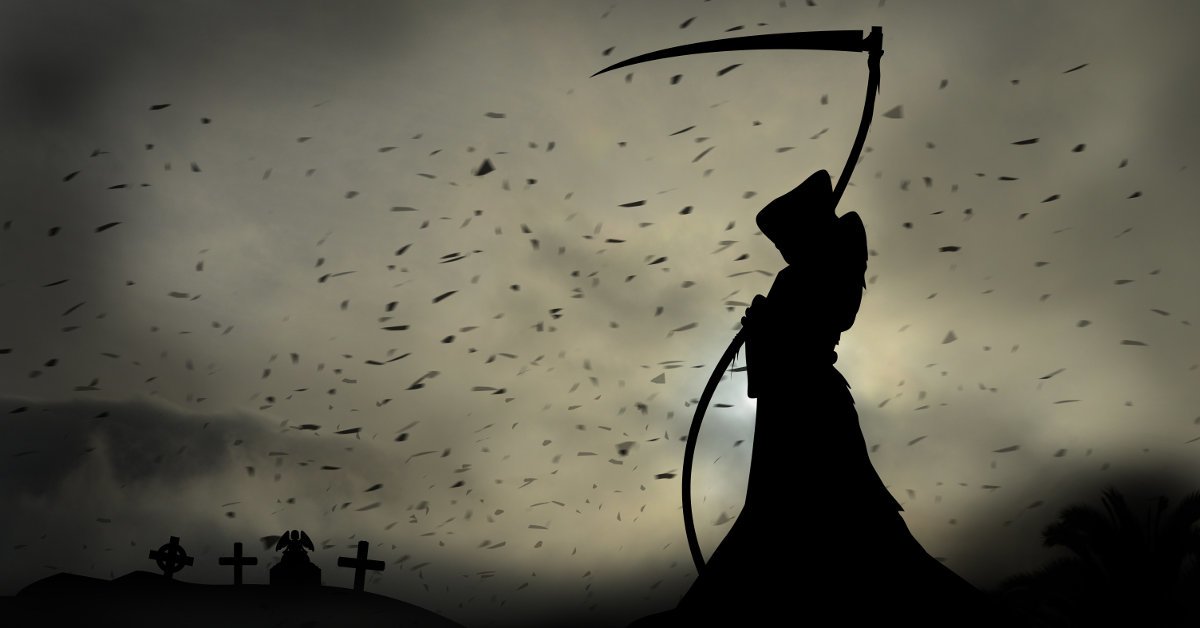 When Jill turned the corner and saw what was waiting for her in the street, she knew her life was over. Dread settled in the pit of her stomach, and she found herself backing away. Only she knew it wouldn't do any good.
If she could see it, it could see her.
Indeed, the creature turned, and though it had no eyes—only a dark emptiness hidden inside a thick black cowl—she felt its gaze like a javelin through the heart.
Wide-eyed, she watched it approach, the dark fabric of its robes rippling languidly over asphalt as it crossed the street to meet her.
No, she thought. It isn't supposed to end like this.
But in moments it was in front of her, and Jill knew she was going to die.
"You gave us quite a chase," the Reaper mused. Its voice came out a haunting, otherworldly whisper, like wind funneling through a narrow tunnel.
Jill wanted to say something but couldn't. She was too lost in the vistas of abject terror to open her mouth.
"Do you wish to end this now," the Reaper asked, "or do you want some more exercise first?"
Jill prickled with a sudden flare of anger, and for a moment, her fear abated. The Reaper had a job to do, but it didn't have to be so fucking condescending.
"So, this is it then? All this education and life experience, just so I can lose it all now?"
"My dear, sooner or later, everyone dies."
"Then why not later? I have a lot going for me right now. There's so much I can contribute to the world. Give me ten more years. Then you can take me."
When the Reaper spoke again, there was no hint of its prior mocking. Its tone was serious, and if Jill didn't know any better, she'd also say caring.
"You know that's not how it works. Not even I'm allowed to decide who lives and dies. We Reapers receive our orders, and we carry them out."
Yes, she had to concede that this was true. And why some people lived to a ripe old age while others expired young, she would never know. All anyone could say for certain was that one day, sooner or later, your number would be called.
"It's really not so bad," the Reaper continued. "Many die more slowly from terrible, debilitating diseases. Death by our hand is much quicker, much more humane."
Jill snorted. "There's nothing humane about you."
"True enough. Would it help if I told you that the one who decides your fate isn't as capricious as you make him out to be? That there's a plan in the midst of all this madness?"
"Not really."
The headless cowl nodded, as if the Reaper hadn't expected any other answer.
"Come," it said. "Take my hand, and see what awaits you in the life to come."
Jill hesitated a moment longer, but there was no point resisting the inevitable. She nodded. Fine. Her time was up, and that was that. Goodbye, Earth. Hello, Great Unknown.
Its hand on her shoulder was like a dousing in arctic waters. She felt all the warmth—all the life—drain out of her body like a bucket with a hole in the bottom. But the Reaper was right. It really wasn't so bad. And when everything went dark like the void beyond the Reaper's cowl, Jill found herself contemplating her life, wondering if it had really been all that important to begin with.
After all, nothing in this world was permanent. As the Reaper itself had said, sooner or later, everyone dies.
Were you fascinated by this story and want to read more? Become a $5 patron and I'll write a longer version of it, at least 10,000 words in length. The same offer applies to any other piece of flash fiction on the blog. Learn more and become a patron today by clicking here.
Subscribe to my mailing list to receive a free digital copy of my short story, The Sign.
Enter your email address and click "Submit" to subscribe and receive The Sign.
©2018 Jeff Coleman. All rights reserved. For reproduction rights, please contact the author (who happens to be a kind and eminently reasonable man.) Unless otherwise stated, images are copyrighted by various artists and licensed by Shutterstock.