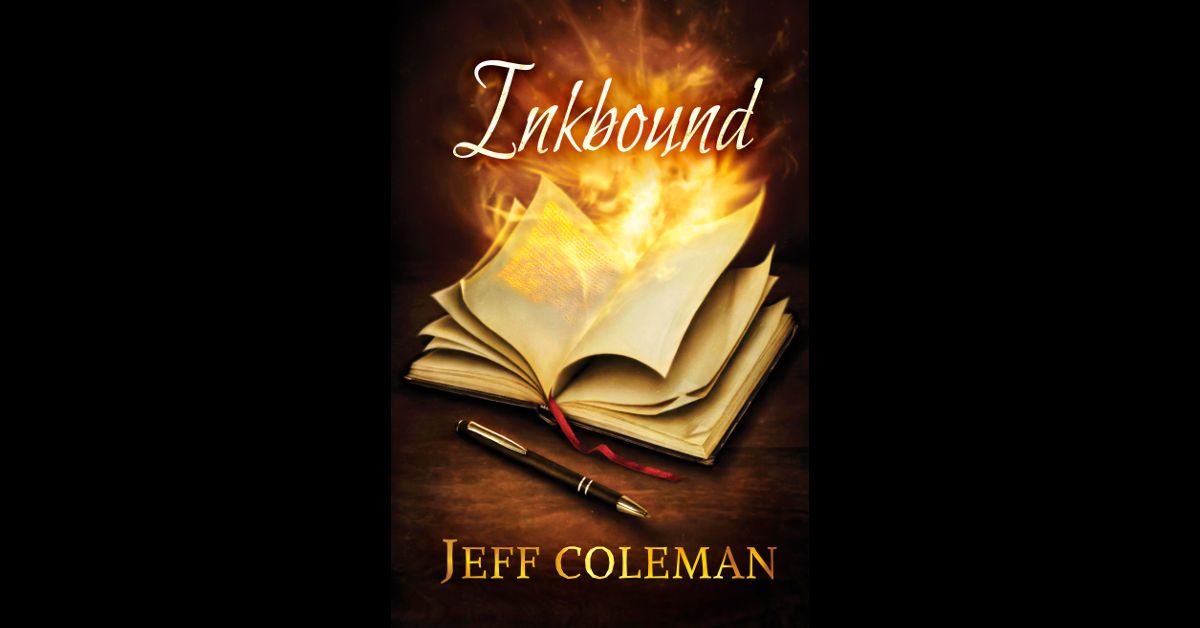 Today, Inkbound is officially released!
This short novelette is the precursor to at least three planned full-length novels in a series, so if you find yourself falling in love with Giles, don't worry. You'll be getting a lot more of his character in the months and years that follow.
You can buy an e-book, paperback, or hardcover from any one of the following retailers:
Amazon: click or tap here
Barnes & Noble: click or tap here
Google Play: click or tap here
Kobo: click or tap here
Walmart: click or tap here
If you're located in the US and want a signed paperback or hardcover at a discount, you can instead order through my store by clicking or tapping the "Buy Now" button.

I already list Inkbound at a cheaper price than what you'll find through other retailers, and you can still get the 10% discount I offered in my previous email. All you have to do is enter the discount code INKBOUND_SAVINGS during checkout. There's a limit of 1 discounted copy per customer, and you must be located in the United States to order. The 10% discount is good through June 31, 2019.
If this is your first time hearing about the book, here's the back of the book blurb.
Giles has always felt different, like he's never truly belonged, and it isn't until he meets others of his kind that he discovers his true nature. As an Earthbound, he's both human and Immortal, born to protect the world from an ancient race of beings with the collective power to destroy the universe.
He embraces his mission and devotes his life to imprisoning every malevolent creature he encounters. But when a routine binding goes awry and his target escapes, Giles, who has never been outside California, must travel halfway across the world to the Philippines, where the runaway phantom has taken up residence.
Shaken by his mistake and afraid of failing again, he must venture far beyond his comfort zone to confront the evil creature once and for all. But this time it knows Giles is coming, and it will do anything in its power to stop him…
Inkbound is a spellbinding novelette about magic, the supernatural, and the darkness that dwells inside each one of us.
If you purchase the book, don't forget to leave a review!
Without honest reviews, books don't sell. So if you have some time after you've finished reading, please help me out by leaving one of your own. Reviews on Goodreads and Amazon have the most impact, but I also appreciate those on other platforms such as Barnes & Noble, Google, Kobo, etc.
Thank you so much guys for all the support! Have a wonderful weekend and enjoy the book 🙂
Subscribe to my mailing list to receive a free digital copy of my short story, The Sign.
Enter your email address and click "Submit" to subscribe and receive The Sign.
©2019 Jeff Coleman. All rights reserved. For reproduction rights, please contact the author (who happens to be a kind and eminently reasonable man.) Unless otherwise stated, images are copyrighted by various artists and licensed by Shutterstock.