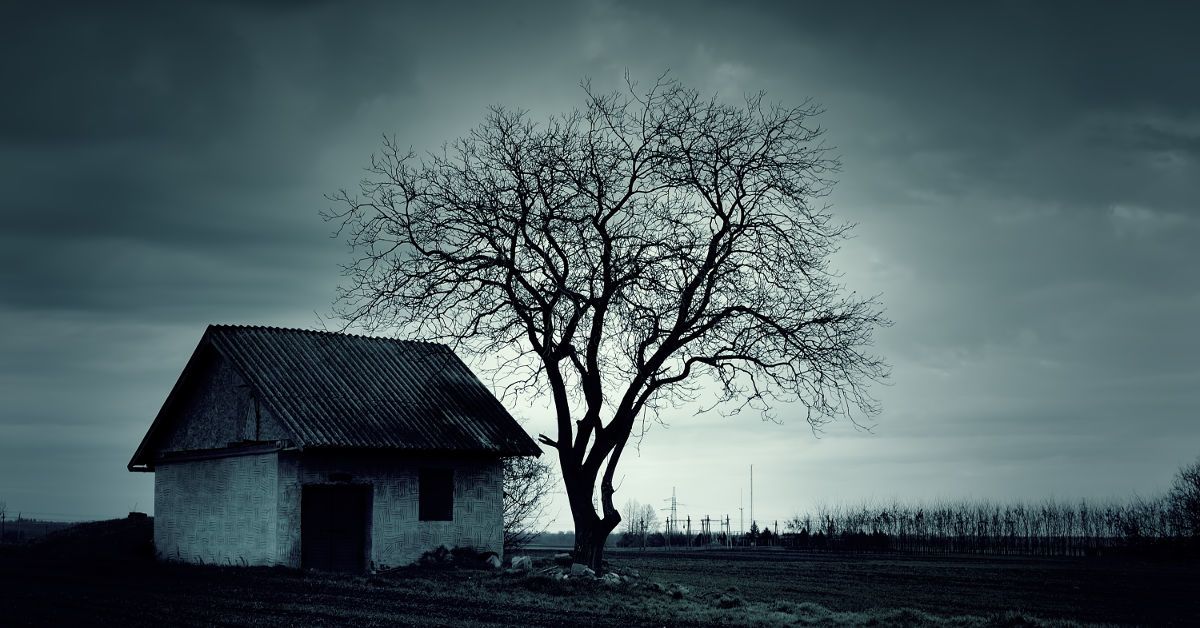 This post was originally published through Patreon on December 11, 2018.
A light came on in the Jefford's house, disturbing the darkness of the night. It oozed out of a smokey plate glass window, alighted on a cracked and peeling wall, brushed the tops of thick bramble-like weeds. If anyone had happened by and glanced through the grimy glass, they might have caught a rare glimpse of Old Man Jeffords himself, clutching his chest and tumbling to the moldy floor. But there was no one there that night—Old Man Jeffords had isolated himself for over fifteen years and people had stopped checking in on him long ago. And so he passed, as so many unfortunate souls do, in silence.
Old Man Jeffords lay with his head pressed against the carpet, inhaling the rotten perfume of a house he'd stopped grooming the day his wife died. He didn't care that his heart had betrayed him, for life was a restless and unending wake. All he could think in this ultimate moment was that he could finally close his eyes, knowing he would never have to open them again.
His fluttering heart seized; his leaden body grew stiff. The infinite depths behind closed eyelids succumbed to a deeper darkness, a desolate existential wasteland that, like a magnet, pulled Old Man Jeffords down. There was no life here, and that suited Jeffords just fine. In his heart, he'd already died long ago, and he welcomed his unmaking with open arms.
"Samuel."
The soft, diaphanous whisper reached him just before awareness tapered for good. It buoyed him up, a counterpoint to the sinking weight of his despair, and he was left suspended in the no man's land between life and death.
"Lisa?"
In some way Jeffords didn't understand, his wife was alive. Alive. The allure of the silent, everlasting darkness compelled him, but if Lisa was still out there, if they could still be together…
"Don't leave me," she said. "Don't let the darkness destroy you."
Jeffords had slipped beyond the realm of human emotion, but what he found on the threshold of existence was something more intense: a primal, all-consuming desire that realigned the filaments of his soul.
The poles of that great cosmic magnet shifted, and Jeffords was no longer pulled down but up. The darkness receded, and in its wake, a blinding light burst forth. Here, in this new place beyond life and death, Jeffords beheld the woman he'd loved for so many decades—only now she was remade, and so much more beautiful than she'd ever been before.
"I never thought I'd see you again," Jeffords said.
"Love never dies."
Jeffords opened his heart to her, just as he'd done the day they met 57 years ago.
Flash.
The two souls merged, a mighty fusion reaction that could easily have burned the universe to cinders. And in the intersection of their eternally bonded hearts, Jeffords came to know a third and even greater love, one that promised he would never be alone again.
Subscribe to my mailing list to receive a free digital copy of my short story, The Sign.
Enter your email address and click "Submit" to subscribe and receive The Sign.
©2020 Jeff Coleman. All rights reserved. For reproduction rights, please contact the author (who happens to be a kind and eminently reasonable man.) Unless otherwise stated, images are copyrighted by various artists and licensed by Shutterstock.