If you're like me, you probably have a shelf (or a Kindle, or a Nook) piled to the brim with books waiting to be read. The whole point is, of course, to actually read them. In the spirit of furthering that goal, here are three titles I'm currently reading in a frantic (though ultimately futile) effort to complete my own ever-expanding to-read list.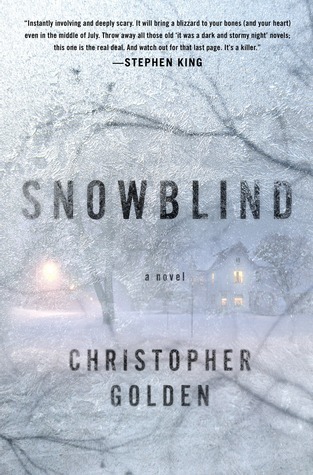 Synopsis from Goodreads:
The small New England town of Coventry had weathered a thousand blizzards…but never one like this. Icy figures danced in the wind and gazed through children's windows with soul-chilling eyes. People wandered into the whiteout and were never seen again. Families were torn apart, and the town would never be the same.
Now, as a new storm approaches twelve years later, the folks of Coventry are haunted by the memories of that dreadful blizzard and those who were lost in the snow. Photographer Jake Schapiro mourns his little brother, Isaac, even as—tonight—another little boy is missing. Mechanic and part-time thief Doug Manning's life has been forever scarred by the mysterious death of his wife, Cherie, and now he's starting over with another woman and more ambitious crimes. Police detective Joe Keenan has never been the same since that night, when he failed to save the life of a young boy . . . and the boy's father vanished in the storm only feet away. And all the way on the other side of the country, Miri Ristani receives a phone call . . . from a man who died twelve years ago.
As old ghosts trickle back, this new storm will prove to be even more terrifying than the last.
My thoughts so far:
I've been making a concerted effort to experience new authors. I stumbled on this one in another blog (sorry, I forgot to keep track of where) and decided to give it a spin. I'm about a third of the way through, and so far it's gorgeously written. Christopher Golden has a fine-tuned mastery of the English language. The characters are well developed; in fact, I would say that the plot is, in large part, driven by them. The story is pretty intense, and so far has kept me engaged and wanting to know more.
Certain scenes are infused with more sexually explicit detail than I would think necessary to further the character development or the plot. But on the positive side, I have to say that Golden seems to understand human sexuality well. It's more than just the mindless gratuitous sex that sells books; it's underscored with depth and meaning. In the case of two individuals in particular, the connection between physical and emotional intimacy is well established, as well as the powerful bond that cements the relationship between man and wife in an otherwise tumultuous relationship.
I've seen other reviews criticize the pace of this book right around where I've left off, asserting that it's too slow. We'll see what I think when I'm finished. But as it stands now, I love this one and can't wait to get to the end!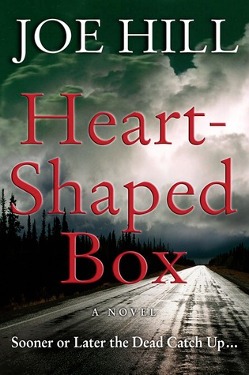 Synopsis from Goodreads:
Aging, self-absorbed rock star Judas Coyne has a thing for the macabre — his collection includes sketches from infamous serial killer John Wayne Gacy, a trepanned skull from the 16th century, a used hangman's noose, Aleister Crowley's childhood chessboard, etc. — so when his assistant tells him about a ghost for sale on an online auction site, he immediately puts in a bid and purchases it.
The black, heart-shaped box that Coyne receives in the mail not only contains the suit of a dead man but also his vengeance-obsessed spirit. The ghost, it turns out, is the stepfather of a young groupie who committed suicide after the 54-year-old Coyne callously used her up and threw her away. Now, determined to kill Coyne and anyone who aids him, the merciless ghost of Craddock McDermott begins his assault on the rocker's sanity.
My thoughts so far:
I wrote about this in a blog detailing five new books I planned to read in the new year.
It's a little rough around the edges, and I wouldn't go so far as to say it's a literary masterpiece. But my overall impression is that it's a solidly constructed book, and there are moments where Joe Hill (actually Stephen King's son, Joseph Hillstrom King) really shines as an author.
In particular, Hill's description of Craddock's ghost is both terrifying and original. The scribbled out eyes, the stop-motion movement and the way in which he bends Jude toward his will make for an engaging read. Jude is a complex man. He's done some pretty terrible things, but he's conflicted about them. He's used women in the past, and to a certain extent is using his current girlfriend Georgia (nicknamed after the state from which she came), but he also cares for her and strives to protect her.
At the half-way point, I'm going to say the investment has been worth it. Each new chapter refreshes and deepens the faith I have that this story will end well ("well", of course, does not imply "happy"…) When I'm finished, I'll write a review to let you know if that faith was warranted.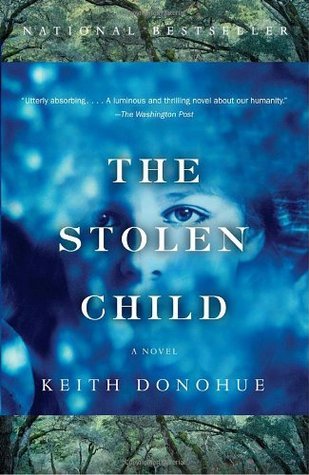 Synopsis from Goodreads:
Inspired by the W.B. Yeats poem that tempts a child from home to the waters and the wild, The Stolen Child is a modern fairy tale narrated by the child Henry Day and his double.
On a summer night, Henry Day runs away from home and hides in a hollow tree. There he is taken by the changelings—an unaging tribe of wild children who live in darkness and in secret. They spirit him away, name him Aniday, and make him one of their own. Stuck forever as a child, Aniday grows in spirit, struggling to remember the life and family he left behind. He also seeks to understand and fit in this shadow land, as modern life encroaches upon both myth and nature.
In his place, the changelings leave a double, a boy who steals Henry's life in the world. This new Henry Day must adjust to a modern culture while hiding his true identity from the Day family. But he can't hide his extraordinary talent for the piano (a skill the true Henry never displayed), and his dazzling performances prompt his father to suspect that the son he has raised is an imposter. As he ages the new Henry Day becomes haunted by vague but persistent memories of life in another time and place, of a German piano teacher and his prodigy. Of a time when he, too, had been a stolen child. Both Henry and Aniday obsessively search for who they once were before they changed places in the world.
The Stolen Child is a classic tale of leaving childhood and the search for identity. With just the right mix of fantasy and realism, Keith Donohue has created a bedtime story for adults and a literary fable of remarkable depth and strange delights.
My thoughts so far:
Like Snowblind, I discovered this one in a blog. Again, I forget where (I'll try to be better about recording these things for future reference.) I don't have many thoughts yet, as I've only completed part of the first chapter.
As of now, I'm intrigued by the premise. The notion of a fey plot to replace a human child is something I've encountered before in  Tithe, by Holly Black. The chapter I'm reading at the moment is written in the first person, from the point of view of the changeling who took Henry Day's place. The language is in the flowing flowery style of a fairy tale, a deviation from many of the other books I've read. Though I enjoy the gritty realism of authors like Stephen King, a well-written storybook fantasy is an enjoyable and welcome change of pace.
What about you?
What's on your to-read list? And what are you reading right now? I'd love to hear more about your current literary exploits in the comments below.
Subscribe to my mailing list to receive a free digital copy of my short story, The Sign.
Enter your email address and click "Submit" to subscribe and receive The Sign.
©2014 Jeff Coleman. All rights reserved. For reproduction rights, please contact the author (who happens to be a kind and eminently reasonable man.) Unless otherwise stated, images are copyrighted by various artists and licensed by Shutterstock.