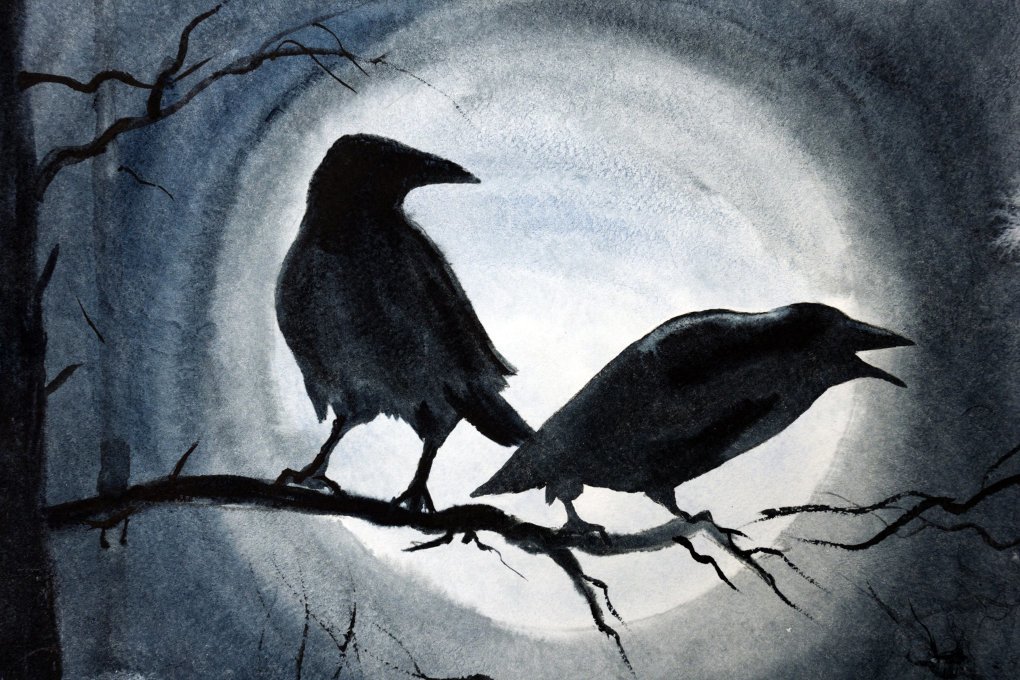 Part 1 | Part 2 | Part 3 | Part 4 | Part 5 | Part 6 | Part 7
During the next few months, the master grew cold and distant. Our lessons continued for a while, but it seemed that with each passing day, he lost interest. I could see in his mind that he didn't trust me, that he didn't trust anyone, and I was focusing every ounce of my will on keeping what I knew hidden from him. Finally, the day came when he no longer summoned me at all.
I was convinced he'd discovered my secret. I knew from my vision while meditating that he could read minds, and I was sure I could feel him trying to read mine over and over again during the course of my studies. When servants and guards started disappearing, when people started whispering that the master had gone crazy and that it was only a matter of time before he took them, too, I was sure he would come for me.
That was when he finally called me back into his study.
* * *
Azibo stared at the servant at his door, gaping like a fish.
"What?" he asked, even though he'd heard the man the first time.
"I said, the master requests your presence in his study."
Still Azibo stared, as if time had suddenly stood still. He peered first into the servant's eyes, then down at the simple flax shenti wrapped around the servant's waist. All he could think now was: Oh no, the master's got me.
"Sir?"
Startled, Azibo reached into his mind to see if he could find out what the master wanted.
Nothing. This servant doesn't know any more than I do.
A deep, shuddering breath. Whatever his fate, he decided, he had no choice but to face the man and hope his secret was still safe. Please, he thought, offering a hasty prayer to the gods. Protect me. Then he allowed the servant to lead him away.
When the door to the master's study opened and Azibo was announced, the boy immediately felt that itch at the back of his head.
He's trying to read me again.
He could never be certain if it was just his imagination or if the sensation was real, but he immediately diverted his thoughts elsewhere: to his studies, which he'd been neglecting since the master had stopped teaching him; to his parents, whom he missed and would do anything to see again. He could feel the master's thoughts, swirling about the room like a dark miasma, but he refrained from reaching for them. Only when he was sure the master's guard was down would he attempt to listen.
They stared at each other for a while in silence. Finally, the master dismissed his servant, who closed the door behind him, and motioned for Azibo to sit.
"I must apologize," he said, inclining his head. "I've neglected your studies."
"It's okay, sir." Azibo hated how he couldn't seem to catch his breath, how his palms remained slick with sweat, how his breath caught in the back of an arid throat whenever he opened his mouth to speak. Surely, the master must sense his hesitation—that itch at the back of his head was still there, vibrating now like a hoard of angry bees. But if the man knew what was worrying him, he didn't let on.
"Have you been practicing your meditation exercises?"
"No," said Azibo, who offered the truth without hesitation. Not since that terrifying vision had he dared to risk another unguarded encounter with the man's mind.
The master nodded, as if he hadn't expected any other answer.
"I suspected as much. My fault, I suppose."
Still, that terrible itching. Azibo did everything in his power to throw up decoy thoughts like a shield, not knowing if such a trick would work but hoping and praying he could avert the master's preternatural gaze.
"I've been busy," the master continued, eyes fastened to Azibo's. "Lots of work to do, you understand." Still, his eyes remained fixed.
Azibo swallowed.
He doesn't want to talk to me. He wants to read my mind. He wants to see if I'm the one he's been looking for.
The thought bubbled into consciousness before he could stop it, and as the itch at the back of his head intensified, he scrambled to recover his mental façade before he gave himself away.
The master peered at him for almost five minutes, as if Azibo were a puzzle that might solve itself if only he stared at it long enough. Finally, the man sighed and looked away.
"Go," he said, waving a curt dismissal. "I have things to attend to. Practice your meditation exercises. We'll continue our lessons soon."
"Yes, sir." All at once, the itch was gone.
He doesn't know! He tried to read my mind, but I blocked him, and he doesn't know!
Azibo had to fight to suppress the stupid, goofball grin that threatened to erupt from his suddenly relaxed features. Safe. For now, at least, he was safe.
Still, he could feel the master's thoughts. So close. So accessible. So many dark and powerful secrets, there for the taking. Azibo finally risked a peek. He reached out, a skill he'd started honing since his first unexpected encounter with the workings of the master's mind. He probed along their surface, gently, carefully…
Irritation. The master was annoyed. Talking to the boy had been a waste of time. He'd learned nothing, nothing! He'd thought maybe, perhaps… No, not the boy. Someone else. Someone in his midst surely, but not this simpering, mewling, homesick excuse for a boy. One of his servants? Or one of his advisers? Why couldn't he ferret out the rogue individual? Why?
Rage. Then terror. A rival, the first in over a century, someone who might stand up to him and strike him down at the height of his power. He had to flee. Had to meditate in the presence of Isis and Osiris. Had to clear his mind. Had to develop the calm clarity necessary to discover who his rival was so he could kill him…
Tomorrow. He would leave tomorrow. He wouldn't tell any of his servants. A week. No, two. Three. He wouldn't even tell Jahi. A secret for him alone. Yes, tomorrow. He would leave tomorrow.
"Why are you still here?" the master snapped.
Startled, Azibo's connection to his mind evaporated like steam.
"Sorry, sir. I was just thinking…wondering…"
"Get out!" the master bellowed.
Azibo bolted and slammed the door behind him.
* * *
I returned to my room that night, Azibo continued, addressing Rashidi, Jahi, Zane, Chibale, and Kasim, each in their turn. I couldn't sleep, couldn't stay calm. I was the only one who knew the master would be away. Once I got over my relief that he hadn't discovered my secret, I realized it was a perfect opportunity—maybe my only opportunity—to take him down before he could do the same to me.
I thought, "I need to talk to Jahi." He was the only person who still saw the master regularly after our lessons stopped, and I would pry into his mind as often as I could, hoping to tease out some secret, some advantage I might be able to leverage against the master later. That was how I discovered he had doubts of his own about what the master was up to. I thought, maybe together, in the master's absence, we could come up with a plan, some way to take the master by surprise when he returned.
I lay awake the rest of the night, pondering how I might approach him in the morning.
* * *
The first thing Azibo did the following day was confirm the master had truly gone. So gradually, methodically, he spent the morning creeping through various parts of the estate, slinking into rooms he'd never been allowed into before, his tour finally terminating in the master's study. That last door he opened with some trepidation, for if the man was still there and caught him, he would be in a lot of trouble. But the room was dark and empty, the candles all extinguished in the master's absence, and all at once Azibo was overtaken by an ocean of adrenaline.
Jahi. I have to find Jahi.
Azibo found him outside, leaning against a colorfully striped column overlooking a small fish pond. The man's gaze was fixed on the tranquil waters, and Azibo could feel that his thoughts were troubled.
"Jahi?"
The man whirled.
"Sorry," said Azibo. "I didn't mean to startle you."
The man looked at him a moment, then returned his eyes to the water.
"What do you want?" Jahi asked.
"I need to talk to you."
"Not now. I'm busy."
Frustration blossomed. But tapping into a slow breathing technique the master had showed him, Azibo worked hard to keep the emotion under control. He needed Jahi, and making the man angry would undermine his purpose.
"Please, Jahi. It's about the master."
Once more, the man turned.
"What about him?"
"I think it's better if we discuss that in private."
Jahi's eyes narrowed, forming a silent question, but Azibo refused to elaborate. This was not something he wanted to talk about in the open.
"Fine," Jahi breathed. "We'll talk in your chambers."
Read part 9 here.
Subscribe to my mailing list to receive a free digital copy of my short story, The Sign.
Enter your email address and click "Submit" to subscribe and receive The Sign.
©2018 Jeff Coleman. All rights reserved. For reproduction rights, please contact the author (who happens to be a kind and eminently reasonable man.) Unless otherwise stated, images are copyrighted by various artists and licensed by Shutterstock.