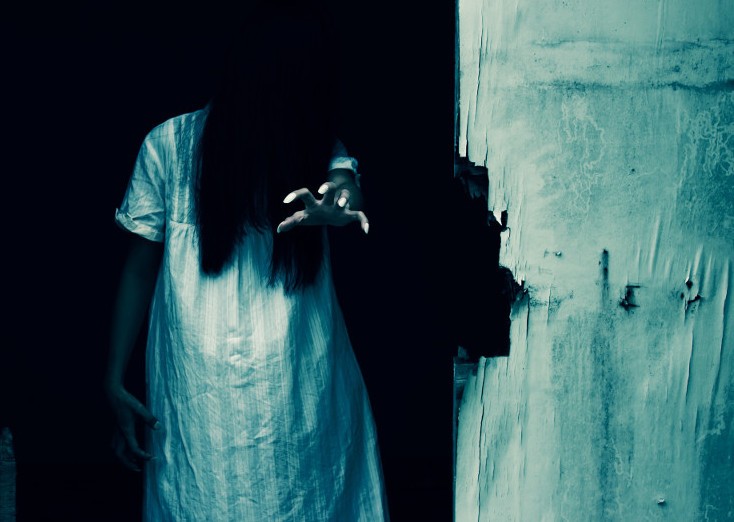 You can read part 8 here. Reading for the first time? You can find part 1 here.

I stepped out into the hallway, quivering with adrenaline in the aftermath of revenge. Each of my senses had stretched as far as they would go, so that I was no longer certain if the creaks and thumps I heard were real or if they were a product of my frenzied imagination. I stopped, paused to make certain the footsteps I heard were my own, then crept along the hallway like a spider, keeping as much to the feeble shadows as possible.
Soiled ivory-colored objects lined the walls at intervals, strung together so they resembled primitive necklaces. Some were long, others were short. Some were connected by balls and joints, others hung by only the string that bound them. I peered more closely, and almost gave myself away with a cry when I realized they were bones.
I moved faster.
I was halfway to the stairs when I heard a sound, a faint clicking noise, followed by what I was sure were feet padding across the carpet. It came from the open doorway of a room very close to where I stood. My head swiveled first to the room to see if I'd been spotted, then around again in search of cover.
I spied a bookcase filled with dusty weathered volumes beside me. It wasn't much, but it was all I could find, and I dove for the shadow it provided.
I froze. Waited. Listened. When I was certain it was safe, I crept closer to survey the threat and to figure out when it would be best to continue my trek down the stairs.
The light inside was dim, and I had to strain my eyes to see. When I caught sight of my double's mom, I nearly recoiled again. But her eyes were closed, and she was sitting Indian-style on the floor in front of her closet. She obviously hadn't seen me. Around her neck hung a necklace like the ones I'd seen on the hallway walls. I stared at her, trying to discern what she was doing.
Suddenly her eyes popped open. I ducked behind the door frame, and I waited for ages before I dared peek again. When I did, I found her staring ahead at her closet. I relaxed.
She got up, and as if in a trance, she began to move toward the door. She reached for the knob and opened it. I gasped.
I'd seen this once before, when my double had opened my closet door and shown me another world. I was certain I'd discovered a passage home. I would follow her through the door, and then I would find mirror-Eugene and make him pay for what he'd done.
I rushed into the room. Fear evaporated, reduced only to raw instinct and determination. The door closed behind my double's mom just as I reached the knob. I grasped it. Twisted. Pulled.
The door opened.
Read part 10 here.

Subscribe to my mailing list to receive a free digital copy of my short story, The Sign.
Enter your email address and click "Submit" to subscribe and receive The Sign.
©2014 Jeff Coleman. All rights reserved. For reproduction rights, please contact the author (who happens to be a kind and eminently reasonable man.) Unless otherwise stated, images are copyrighted by various artists and licensed by Shutterstock.